Welcome to Deeping Osteopaths
We understand that when you are in pain and discomfort you need treatment as soon as possible, from qualified, professional and caring practitioners. At Deeping Osteopaths we achieve this by providing excellent treatment and support to our patients. We want to get you back to health as quickly as possible and we do this by treating the underlying cause and not just the symptoms.
"COVID 19 update "
Hope you are all keeping safe and well during this difficult and challenging time.
Deeping Osteopaths will be reopening for limited face to face appointments with effect from
Tuesday 26th May 2020
.
Its important to update you of the changes that have been made to the practice due to Covid-19 to ensure that we follow  Public Health, NHS England and the Institute of Osteopathy guidance to keep you and the staff as safe as possible. We have put  measures in place to reduce the risk of infection and spreading of coronavirus, however please note this does not eliminate the risk completely.
– All patients will have a pre-screening telephone conversation to assess clinical need and screen for any additional risk factors before any appointment.
– You may notice a difference in the practice as many items have been removed in order that all surfaces can be appropriately cleaned.
– There will be staggered appointments to allow for cleaning of all clinic rooms and communal areas, hard surfaces and door handles etc after every patient.
– Staggered appointments will also prevent overlap and maintain social distancing between patients. Opening times will be flexible to accommodate this.
– Patients will be asked to sanitise their hands on entering the practice.
– Patients are asked to arrive promptly for their appointment. The front doors will be locked so please knock for entry and we will be with you asap.
– Contactless card , BACS payment and cash can be deposited in envelopes as methods of payment.
– The Osteopaths will be wearing PPE and this will be disposed of after every appointment in the appropriate manner.
For patients who are shielding or not fit  and well we still offer free telephone / video advice and support.
All staff here will be following these guidelines and these measures will be reviewed as and when Government guidance on Covid 19 changes.
Contact us on 01778 354223 or via email  Michael@deepingosteopaths.co.uk or
---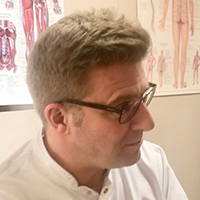 Deeping Osteopaths was established in 2006 By Michael Oldfield BSc, initially based at Deeping Community centre and relocated to larger premises in 2013 due to the increasing demand.
Michael is passionate about osteopathy and providing the best care to our patients and everybody who works here shares that view.
We are open six days a week and  other treatments also available.