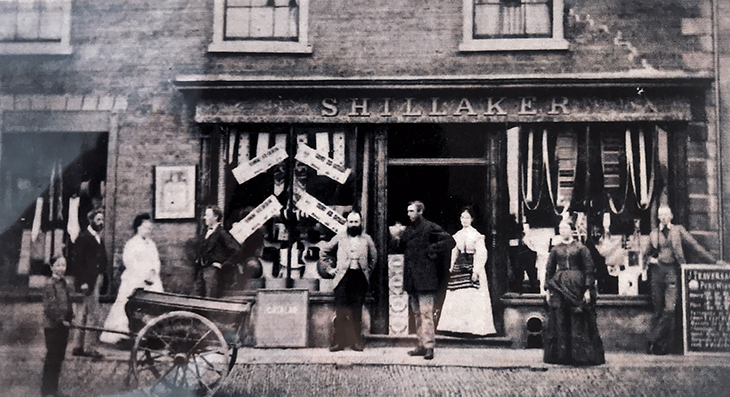 George Shillaker was born in Market Deeping about 1825 and in 1851 he was living in Towngate, Market Deeping with his widowed sister-in-law Elizabeth whose occupation was a grocer. He was a baker. In the summer of 1852 he married Martha, the daughter of Henry and Susan Gray who was born in Market Deeping in 1851. The marriage took place in the Boston Registration District. In 1861 they were living at Herringdale House in the northern part of the newly-formed Deeping St Nicholas parish. He was farming 426 acres and employed 15 men, 3 women and 4 boys. Their family consisted of George (7), Martha (6), William (4), Ann (2) and Lois/Louisa (1).
In 1871 George was still farming 431 acres employing 16 men, 4 women. 16 boys and 5 girls – but were they all employed on the farm? George and Martha were now living at his Draper and Grocers shop 37 Church St, Market Deeping – the subject of the photograph above that started this research. With them are Martha (16), Louisa (11), Ellen (9), Susan (7), Harry (5) and Kate Mary (3). John Chapman (27 born Burghley) was his assistant draper, Jane Twelvetree (25, born Werrington) was the housekeeper assisted by general servant Eliza Mears (14 born Deeping St Nicholas).
In 1871 son George was born in Boston as an apprentice draper in John Oldrid's shop. In the summer of 1880 married Georgina Jennings of Spalding and by 1881 they had taken over the running of the Grocers and Drapers at 37 Church St, Market Deeping.
George senior, still running his farm. Had moved to Welby House, High St, Market Deeping and died there on February 1890 aged 64. Son George by this time had given up the Church St shop and was farming at Uffington where he died on 12 September 1912.
William Franks was born in market Deeping in January-March 1858, the son of George and Mary Franks. George was a butcher whose shop was on the market place and is now Linford's Fish and chip shop. William married Martha Shillaker in the summer of 1890 and after a year living in one of the swiss cottages next to Welby House they moved to 1 Church Street, Helpston to establish the farming family that continues to this day.
Please follow and like us: