Welcome to Deeping Osteopaths
We understand that when you are in pain and discomfort you need treatment as soon as possible, from qualified, professional and caring practitioners. At Deeping Osteopaths we achieve this by providing excellent treatment and support to our patients. We want to get you back to health as quickly as possible and we do this by treating the underlying cause and not just the symptoms.
"Your health is our priority"
Deeping Osteopaths deliver the right mix of services that will bring you back to optimal health and keep you well over the long term.
Don't put up with pain and discomfort – call us today, we can treat more than you think!
---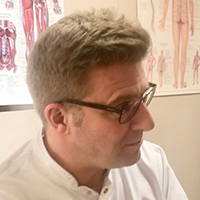 Deeping Osteopaths was established in 2006 By Michael Oldfield BSc, initially based at Deeping Community centre and relocated to larger premises in 2013 due to the increasing demand.
Michael is passionate about osteopathy and providing the best care to our patients and everybody who works here shares that view.
We are open six days a week and now have two osteopaths as well as other treatments also available.